Grand Canyon 5
Unlike the last couple of days, when we really took our time getting up and going, we were up early and ready to go before most of our neighbors. The worst thing happened this morning, however. The previous day our neighbor warned us not to eat freeze dried eggs. We should have heeded his warning. That was our breakfast this morning, and not only did they stick horribly to the pan, but they tasted awful. If that was it, we'd have been OK, but they stuck with us all day. :-(

In spite of feeling rather sick, we hiked up the trail. It was a pretty rough trail, especially since shortly out of camp we hit the switchbacks... and they continued for the rest of the trail.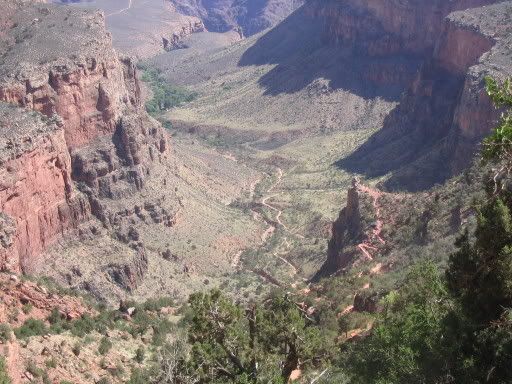 The green area to the upper left of the picture is the Indian Garden campground/rest stop, and you can see some of the trail we took to get from there. It's hard to believe from this vantage point that the little green spot you see really consists of 100 year old cottonwood trees.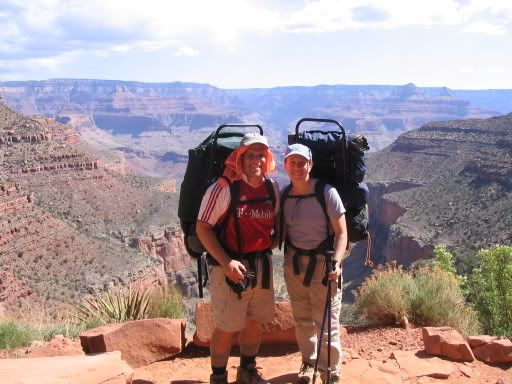 The trail became pretty crowded; we both prefer a more secluded hike, so this was a little too populated for our tastes. The Bright Angel Trail, after all, leads right up to (down from) the main Grand Canyon village; any Joe Schmoe can find it and hike down some distance. What makes it more accessible is its frequent water stops; there's one at the 1.5 mile mark, another at the 3 mile mark, and again, at Indian Garden (4.5 mile mark). So it's not hard to imagine the crowds. There were also quite a few who I guess had never heard the rule: the uphill hiker has the right of way. I did mention it to a group of young guys who were charging down at a ferocious pace with little regard to who might be in their way. I did have to laugh at a couple we saw. She was certainly (un)dressed for something else. She was wearing a little crop top (maybe a sports bra) and a pair of "cut-off" "sweat" pants (if you can call the ones that were purchased in cut-off style actual "cut-offs" or if you can call a pair that have never seen sweat "sweatpants"). She was carrying some water and that was it, as far as my memory serves. Following her ten yards back was her "pack mule". He was wearing the extremely full backpack, complete with two full-size sleeping bags and a full-size pillow strapped to the back of the back. At least she wasn't wearing high heels.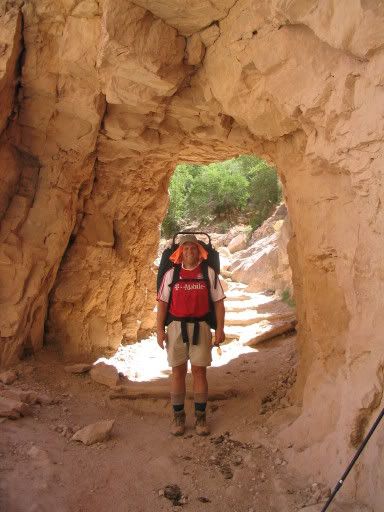 A ranger had told us that there were two tunnels on this trail. The above apparently counts as one. The other looked the same. I was a little disappointed; I wanted to walk through a dark tunnel that might require my headlamp. Eh. This was so close to the top that people were already telling us, "You made it!"

At the top, we wandered around a little bit through some shops. What captured my imagination (again) was the sign at the top with text from Psalm 104:


O Lord,
How manifold
are thy works!
In wisdom hast
thou made them all:
the earth is full
of thy riches.
The sign also contains a prayer:

Father Almighty, wonderful Lord,
Wondrous Creator, be ever adored;
Wonders of nature
Sing praises to You,
Wonder of wonders --
I may praise, too!
This pretty much sums it up. I can't see amazing things like the Grand Canyon without praising the LORD who made it all. In fact, I have to admit that when we were out of the canyon and I was looking over it, I teared up a little. It was sad to have left the beauty of the canyon and to know that we'd soon be back in the flatlands.
What wasn't sad, however, was eating a lunch that we didn't have to prepare ourselves (we were out of the canyon before noon)! Though I was a little self-conscious sitting in the Bright Angel Lodge restaurant, stinking of five days in the canyon without a shower (and with only one change of clothes).
After lunch, we left the canyon, found cell phone reception and called Big Mama (and got to talk to the Boy, who was extremely happy to hear Mommy and Daddy on the phone) to tell her we were safe and sound. Then we drove to Sedona and walked around for a little while before we went to our plush, lavish accommodations to clean up.
We had dinner at the Cowboy Club in Sedona (dressy casual is requested for this special dining experience - at least we had clean clothes on). It was great. Especially since we got out of there for only $30 when one steak dinner at Phantom Ranch would have cost $32, had we been able to get reservations there.
And it was evening, and it was morning, the fifth day.