Grand Canyon - 1
If you were wondering why this blog has been silent for a couple of weeks, it is because we were on our Grand Canyon adventure. I will try to summarize the trip into a few posts, but don't expect me to update them too quickly.
We started by taking the boy to Grandma and Grandpa's house (otherwise known as the Chykkyn Rantch). Then we drove to Louisville, where we were to catch our plane.
When we got to Phoenix, we got our rental car and headed north.
We left early the next morning for our descent into the Grand Canyon.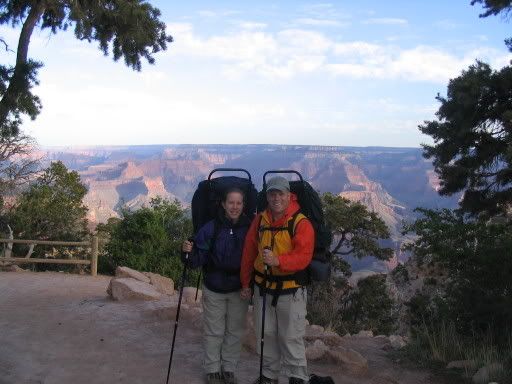 Of course it was still chilly out, so we were bundled up. The temperatures ranged from the 20s to the 70s on the south rim -- that translated into the 60s to the 90s at the bottom of the canyon. In case you aren't familiar with the Grand Canyon, the CCC dug it in the early 1950s in search of gold, and when they got to the middle, they found the Colorado River there. They left it unfinished after they lost several of their key men in a rockslide.
It feels like I'm standing on top of the world. Really I'm just standing in front of a 1 mile deep canyon that averages 10 miles wide. And we headed down into it. It was quite the trip down (don't let anyone fool you; the down part is harder than the up. The up takes better cardiovascular powers, but the down takes its toll on your knees, especially since you're generally heading down with food for the whole stay and water for the whole trip down). We went down the South Kaibab Trail, which is competely dry. Meaning we had to carry our own water the whole way down. Our water was quite warm by the time we made it down. It was a hard trail, and we were extremely happy when we finally glimpsed the river.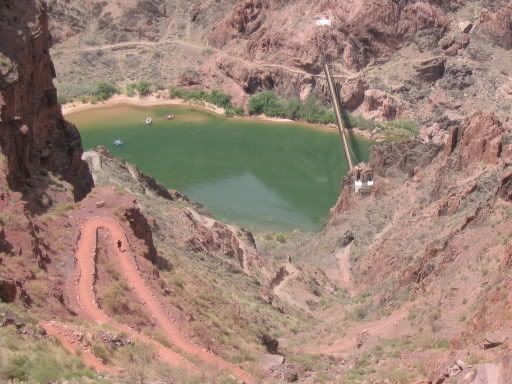 Of course we didn't realize how far away it still was... (if you check out the picture carefully, you'll see a single guy in black. This guy was insane; he was actually running... all the way to the river and back. That's a 15 mile run, and that doesn't even bring into play the mile difference between the elevation of the top and bottom).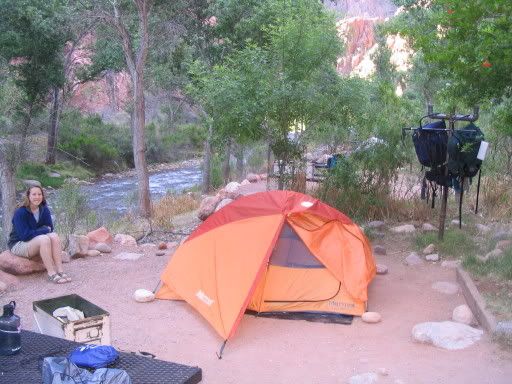 We finally did make it to the Bright Angel Campground, and we loved it. It was a bit warm, but it was great to have running (drinkable) water and flush toilets. We weren't quite expecting that luxury. We rested and relaxed in the Bright Angel Creek (talk about cold water!), had dinner, and were in bed before sunset.

And it was evening and it was morning, the first day.