Grand Canyon 2
Because it's a rather slow day today (ok, mighty slow; since it's raining and cold outside, I'm not playing soccer, and we can't think of anywhere to go or anything to do), I've decided to update with day 2 of our Grand Canyon trip.
On day 1, we hiked 7 1/2 miles into the canyon. We were pretty much wiped out by the time we got down there. In fact, had we known about the "mules carry your bag in" option, we might have opted for it (hind sight, of course). So we decided that we would be best set to just lay around camp all day. We'd relax in the creek, walk into Phantom Ranch, play some cards, and just take it easy.

Except that we don't have the sense to do that. Especially when there's a waterfall within "reasonable" hiking distance. So instead of relaxing, we headed for Ribbon Falls. Ribbon Falls is an easy hike from Bright Angel Campground. It's only the distance that is a problem: 13 miles round trip. We headed off with water, some snacks, and our filter (so we could have more water). Turns out that the filter was a really good idea; we had to refill our bottles twice. The trail followed the Bright Angel Creek to the north (toward the North Rim).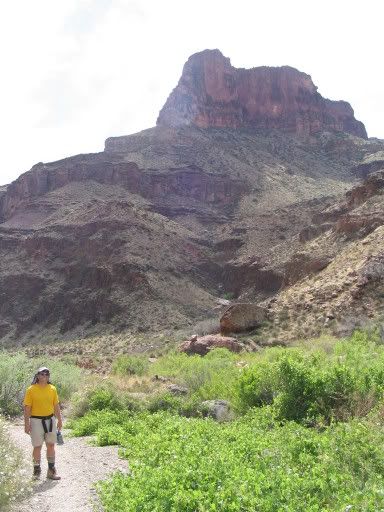 It went from being a fairly level trail in a tight canyon to being a fairly level trail in a wide canyon. The climate went from creekbank to desert to swamp to desert. Of course, what desert trail would be complete without a snake sighting? As I was stepping over a rock, what should I almost step on but a rattler, out minding his own business, soaking up the sun. Needless to say, my foot did not continue its downward motion. We waited a little bit (the heartbeat had to slow down a little bit) and some other guys came by -- one joker decided to poke the snake, not believing it was a rattler. But in the end, we passed without incident.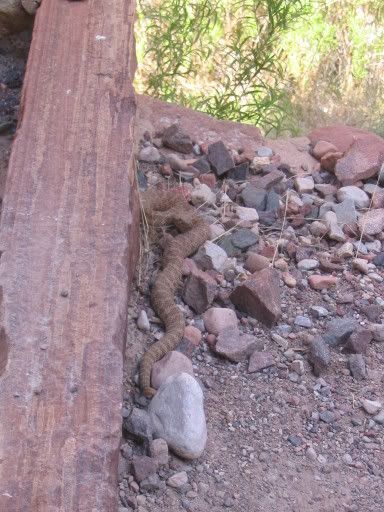 We continued along the path until we decided that it was too far. Fortunately for us, we met a hiker who told us that we were only about a mile away. So we plodded on. We finally got to where literature had told us we could either ford the creek or take the bridge. Seeing as how taking the bridge required a stupid hike up a steep hill in full sunlight, we opted for the creek crossing route. Unfortunately the creek was too high for a safe crossing, and fortunately we were smart enough (and not too stubborn) to realize it. In later discussions, it seemed like everyone had made the same determination, including a ranger we met. So we went up and over the hill to the bridge, and we finally made it to the falls.

Ribbon Falls was well worth the wait. If you look closely at the picture, you can see me to the left of the falls (wearing a yellow shirt).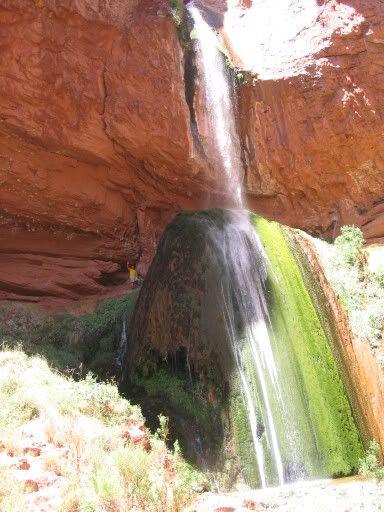 What I didn't realize until I was behind the falls talking to a gentleman back there (whose kids were relaxing in the water) was that the date was perfect.
May 5, 2006.
Perfect? It was perfectly 10 years from the day when I proposed to Tara. And what made it more perfect was that said proposal took place behind a waterfall in the Great Smoky Mountains. Ten years to the day.
It was a beautiful coincidence, and it made my day.
After have a great time in the falls, we hiked back. I didn't realize how much we had been hiking uphill on the way; the way back was a shorter (chronological) hike by far. No matter, we were wiped out by the time we stumbled back into camp.
And it was evening, and it was morning, the second day.