He Who Shall Not Be Named - the 2006 version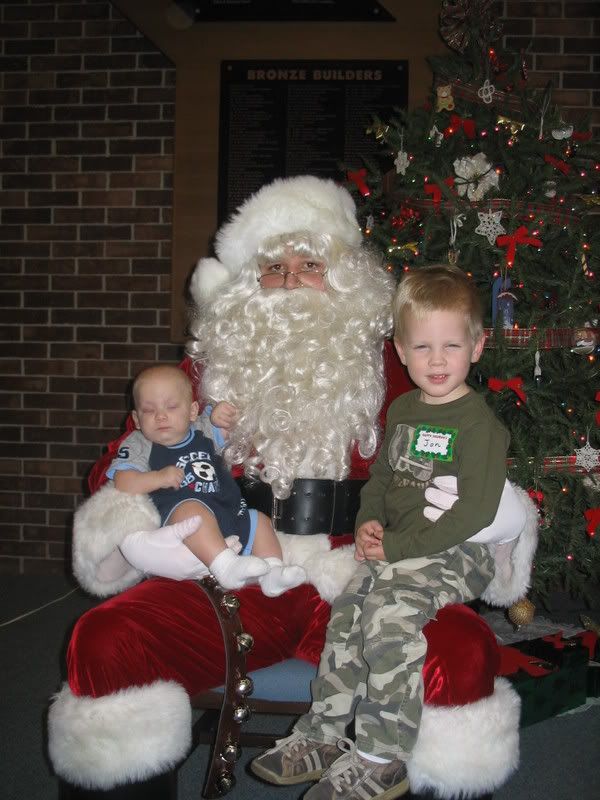 Notice the distinct lack of a meltdown. Even though it was already past bedtime. Because Tara had to play for something at church, we went at the tail end of the jolly red elf's visit time, and we barely made it.
There were quite a few teenagers who seemed to be playing the role of "elves" - one of whom even had on an elvish hat (complete with ears). She was also the one who was making name tags for the children - and wouldn't allow Jonathan to sit on Santa's lap without one... she asked him his name, he didn't answer, so I told her that it was Jonathan. She looked at me funny, and then she started writing a "J" in the middle of the nametag. I knew she wouldn't be able to fit "Jonathan" on it from where she started, but I started spelling it for her anyway.
She said, "I'll just put 'Jon' on it."
I rolled my eyes and said, "Fine. That's J-O-N." ... as she proceeded to write "J-O-H-N"
As she started to take the nametag off the backing, I asked, "How about if you spell it right?"
The second time was much better.
It all made me laugh, and the teenagers were all very nice (in a very
Napoleon Dynamite
kind of way, even to the FFA jackets).